2D DIMENSIONAL DATA - NANO LATCHING CIRCUIT
Size
A
B

Plug

C

Receptacle
D
9
.375 [9.52]
.270 [6.86]
.163 [4.14]
.175 [4.44]
15
.450 [11.43]
.345 [8.76]
.238 [6.04]
.250 [6.35]
21
.525 [13.33]
.420 [10.67]
.313 [7.95]
.325 [8.25]
25
.575 [14.60]
.470 [11.94]
.363 [9.22]
.375 [9.52]
31
.650 [16.51]
.545 [13.84]
.438 [11.12]
.450 [11.43]
37
.725 [18.41]
.620 [15.75]
.513 [13.03]
.525 [13.33]
Latching Circuit Dual Row Vertical Surface Mount Metal Shell
Size
Gender
Eng#
Ordering#
2D
3D
PCB
9
Female
CNM26L09-2S041-S01
832411314
2D
3D
PCB
15
Female
CNM26L15-2S041-S01
832421314
2D
3D
PCB
21
Female
CNM26L21-2S041-S01
832431314
2D
3D
PCB
25
Female
CNM26L25-2S041-S01
832441314
2D
3D
PCB
31
Female
CNM26L31-2S041-S01
832451314
2D
3D
PCB
37
Female
CNM26L37-2S041-S01
832461314
2D
3D
PCB
Note: Please click on 2d to download the sales drawing,3d to download the 3d model and PCB to download the footprint.
Electrical
Contact Resistance
33 milliohm max contact only and 87 milliohms max with 6" wire @ 1A
Current Rating
1A max.
Dielectric WithStanding Voltage
250 VAC at sea level, 100 VAC at 70,000 feet. 1mA leakage current max.
Insulation Resistance
100 VDC and 5000 Megohms min.
Mechanical
Engaging Force
5 oz max.
Separation Force
.4 oz min.
Mating/Unmating Force
7 oz x # of contacts max.
Vibration
EIA-364-28 Condition IV, 1 microsecond max discontinuity
Shock
EIA-364-27 Condition G, 1 microsecond max discontinuity
Durability
EIA-364-09, 200 matings, passes Mating Force, CR, Eng and Sep Forces
Salt Spray
EIA 364-26 Condition B-48 hours
Materials and Finishes
Signal Pin Contacts
C17410 Beryllium Copper per ASTM B768
Signal Socket Contacts
C17410 Beryllium Copper per ASTM B768
Contact Plating
Gold Plating per ASTM B488
PC Tails
C17410 Beryllium Copper per ASTM B768
PC Tail Plating
60/40 Tin/Lead plating per SAE-AMS-P-81728, or Gold plating per ASTM B488
Shell
6061-T6 Aluminum per SAE-AMS-QQ-A200/8 or 300 Series Stainless Steel per ASTM A582
Shell Plating
Electroless Nickel per SAE-AMS2404, or Cadmium per SAE-AMS-QQ-P-416 or Black Anodize per MIL-A-8625 or Passivated per AMS2700
Insulator Material
LCP(Liquid Crystal Polymer) GLCP-30F or PPS per MIL-M-24519 GST-40F
Our How To Order tab allows users to configure the Ulti-Mate Engineering # for Nano Latching Circuit Dual Row Vertical SMT Connectors .
Please confirm the part number(s) you selected with our customer service department prior to placement of order.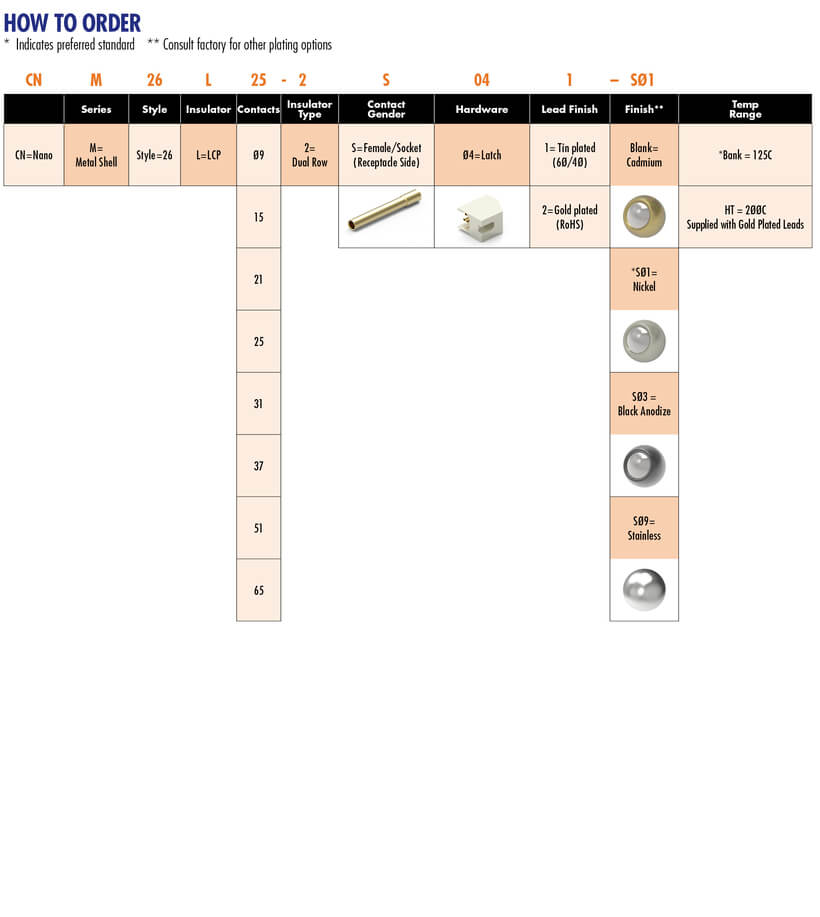 *Indicates Preferred Standard
**Consult Factory for other plating options
*** Leave blank if no Mounting Option is required (F01- Float Mount is not available for size 100)