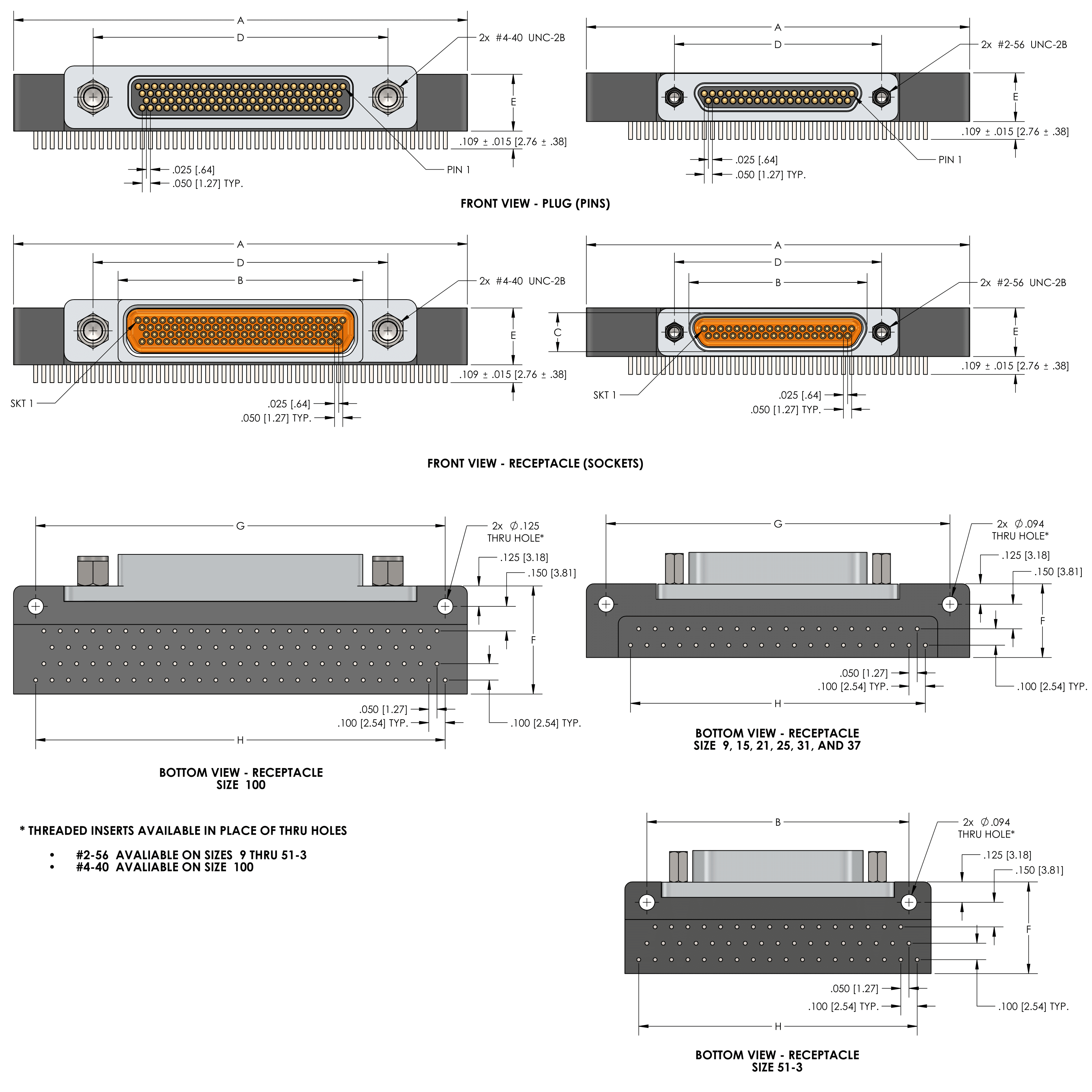 2D DIMENSIONAL DATA - MICRO CIRCUIT STYLE 5
Size
A Max.
B +/- .007
C +/- .005
D Ref.
E Max. / M & B
E Max. / A & P
F Max.
9
1.390 (35.31)
1.150 (29.21)
.565 (14.35)
.400 (10.16)
.308 (7.82)
.218 (5.54)
.455 (11.56)
15
1.540 (39.12)
1.300 (33.02)
.715 (18.16)
.700 (17.78)
.308 (7.82)
.218 (5.54)
.455 (11.56)
21
1.690 (42.93)
1.450 (36.83)
.865 (21.97)
1.000 (25.40)
.308 (7.82)
.218 (5.54)
.455 (11.56)
25
1.790 (45.47)
1.550 (39.37)
.965 (24.51)
1.200 (30.48)
.308 (7.82)
.218 (5.54)
.455 (11.56)
31
2.040 (51.82)
1.800 (45.72)
1.115 (28.32)
1.500 (38.10)
.308 (7.82)
.218 (5.54)
.455 (11.56)
37
2.340 (59.44)
2.100 (53.34)
1.265 (32.13)
1.800 (45.72)
.308 (7.82)
.218 (5.54)
.455 (11.56)
51-3
1.875 (47.63)
1.600 (40.64)
1.215 (30.86)
1.700 (43.18)
.351 (8.92)
.260 (6.60)
.565 (14.35)
100
2.780 (70.61)
2.500 (63.50)
1.800 (45.72)
2.500 (63.50)
.420(10.67)
N/A
.665 (16.89)
Micro Circuit Right Angle Style 5
Size
Gender
Ordering#
Eng#
2D
3D
PCB
9
Male
836111517
CM5R09P07-S01
2D
3D
PCB
Female
836211517
CM5R09S07-S01
2D
3D
PCB
15
Male
836121517
CM5R15P07-S01
2D
3D
PCB
Female
836221517
CM5R15S07-S01
2D
3D
PCB
21
Male
836131517
CM5R21P07-S01
2D
3D
PCB
Female
836231517
CM5R21S07-S01
2D
3D
PCB
25
Male
836141517
CM5R25P07-S01
2D
3D
PCB
Female
836241517
CM5R25S07-S01
2D
3D
PCB
31
Male
836151517
CM5R31P07-S01
2D
3D
PCB
Female
836251517
CM5R31S07-S01
2D
3D
PCB
37
Male
836161517
CM5R37P07-S01
2D
3D
PCB
Female
836261517
CM5R37S07-S01
2D
3D
PCB
51-3
Male
836171517
CM5R51-3P07-S01
2D
3D
PCB
Female
836271517
CM5R51-3S07-S01
2D
3D
PCB
100
Male
836181517
CM5R100P07-S01
2D
3D
PCB
Female
836281517
CM5R100S07-S01
2D
3D
PCB
Note: Please click on 2d to download the sales drawing,3d to download the 3d model and PCB to download the footprint.
Electrical
Contact Resistance
8 millihom max contact only + any solid lead resistance (depends on wire AWG) @ 2.5A
Current Rating
3A max.
Dielectric WithStanding Voltage
600 VAC at sea level, 150 VAC at 70,000 feet. 1mA leakage current max.
Insulation Resistance
500 VDC and 5000 Megohms min.
Mechanical
Engaging Force
6 oz max. (Signal contacts only, no data for Power or Coax contacts)
Separation Force
.5 oz. min. (Signal contacts only, no data for Power or Coax contacts)
Mating/Unmating Force
10 oz x # of contacts max. (Signal contacts only, no data for Power or Coax contacts)
Vibration
EIA-364-28 Condition IV, 1 microsecond max discontinuity
Shock
EIA-364-27 Condition E, 1 microsecond max discontinuity
Durability
500 matings, passes Mating Force, CR, Eng and Sep Forces
Salt Spray
EIA 364-26 Condition B-48 hours
Materials and Finishes
Signal Pin Contacts
C17200 Beryllium Copper per ASTM B194
Signal Socket Contacts
C21000 Brass Alloy per ASTM B36
Contact Plating
.000050 Thk Gold Plating per ASTM B488
PC Tails
Copper Wire per A-A-59551 Type S
PC Tail Plating
.000320 min thk Tin plating per ASTM B545, or .000300 min thk 60/40 Tin/Lead plating per SAE-AMS-P-81728, or .000010 thk Gold plating per ASTM B488
Shell
6061-T6 Aluminum per SAE-AMS-QQ-A200/8 or Passivated 300 Series Stainless Steel
Shell Plating
Electroless Nickel per AMS 2404 or Cadmium Plated per SAE-AMS-QQ-P-416
Insulator Material
Polyphenylene Sulfide (PPS) Per MIL-M-24519 GST-40F
Hardware
Passivated Stainless Steel Per MIL-DTL-83513/05
Interfacial Seals
Fluorosilicone per MIL-R-25988 (Std Profile Receptacles only)
Our How To Order tab allows users to configure the Winchester Engineering # for Right Angle .100 X .100 (Style 5) Connectors .
Please confirm the part number(s) you selected with our customer service department prior to placement of order.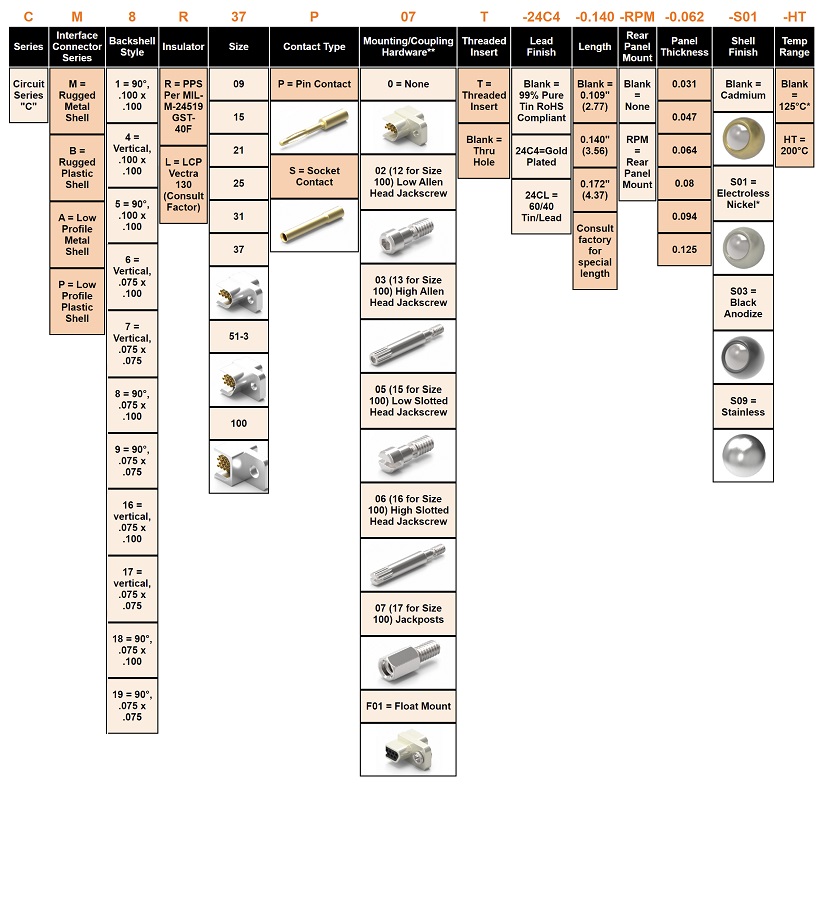 *Indicates Preferred Standard
**Consult Factory for other plating options
*** Leave blank if no Mounting Option is required (F01- Float Mount is not available for size 100)